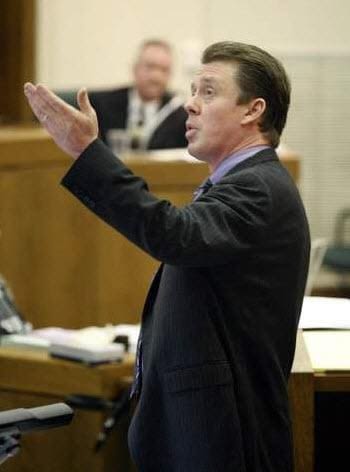 I've been successfully representing the criminally accused in state and federal courts for over 30 years, and I'm proud to continue providing my services to those in Cincinnati and the surrounding areas. As someone who was born and raised in Cincinnati myself, I graduated from The Seven Hills School in 1981. After high school, I decided to attend Clark University in Worcester, Massachusetts, where I received a Bachelor of Arts degree in business management and a Bachelor of Sciences degree in economics.
After graduation in 1985, I was accepted into law school at the University of Cincinnati back in my hometown. I was excited to return home and begin my journey into the legal profession, and after three years of hard work, I received my Juris Doctor from the University of Cincinnati College of Law in 1989. in 1996, as I began to focus solely on criminal defense law, I decided to go for a degree in Advanced Cross-Examination from the National Criminal Defense College in Macon, Georgia.
GETTING INVOLVED IN MY COMMUNITY
Since becoming a skilled criminal defense and trial attorney, I've also worked to become actively involved in a number of national, state and local organizations with the common mission of providing zealous and effective representation to those accused of a crime. I'm a lifetime member of the National Association of Criminal Defense Lawyers, serving two terms on the board of directors from 2007 to 2013. I've also served as a co-chair of NACDL's Problem Solving Court Task Force and Pre-Trial Justice Task Force. From 2010 to 2014, I served as a CLE Seminar co-Chair. I'm also on the board of directors for the Ohio Association of Criminal Defense Lawyers, where I have served as co-chair of the CLE and Strike Force Committees.
In years past I've also served as president of the Greater Cincinnati Criminal Defense Lawyers Association, and in 2005 I received the Jim Looker President's Award for Excellence in Criminal Representation by the GCCDLA.
Everyone deserves the opportunity to defend themselves. I'm proud to help provide that opportunity to my clients, no matter what they're up against.
GIVING BACK TO FUTURE LEGAL PROFESSIONALS
Since 2001, I've been fortunate enough to serve as an adjunct faculty member at my alma mater, the University Of Cincinnati College of Law. For over 15 years, I've had the opportunity to teach Forensic Science, Criminal Pre-Trial Investigation, and Trial Practice - Criminal Defense. I've also served as a Supervising Attorney to students in the Indigent Defense Clinic, and in 2010 I was awarded the Adjunct Faculty Teaching Excellence Award.
When I'm not teaching classes at my alma mater, I'm a frequent lecturer around the country on numerous subjects, including various trial skills such as voir dire, opening statement, and cross-examination; using opposing expert witnesses; digital evidence; defending child pornography cases; defending cases where there is a confession; preparing to cross-examine the police officer; using public records in criminal cases; ethics and professionalism; and using PowerPoint in defense of the accused. In 2008 and 2009, I was a faculty member of the National Defender Training Project: Public Defender Trial Advocacy Program.
ESTABLISHING A TRUSTED CRIMINAL DEFENSE FIRM
Whether you or a loved one is facing drug charges, an indictment for a white-collar crime, murder, or any other serious offense in juvenile court, adult court, or federal court, I understand the challenges you are facing. The Law Offices of Ravert J. Clark in Cincinnati is committed to providing the highest quality criminal defense representation in both trial and appellate courts.
My experience includes hundreds of trials and over 75 appeals, including multiple appearances before the Ohio Supreme Court. In federal court, I have experience providing representation in habeas corpus proceedings and have handled criminal appeals before the United States Sixth Circuit Court of Appeals and the United States Third Circuit Court of Appeals.
Whatever criminal charges you're facing, I'm not here to judge you. I'm here to stand strong by your side and defend you against the prosecution's case while tenaciously safeguarding your rights. I draw on over 30 years of criminal defense experience to obtain meaningful results for all of my clients. I approach each case head-on and I'm not afraid to go to trial when it is in the best interests of my client. So don't wait. If you're facing a criminal charge, call the Law Offices of Ravert J. Clark and schedule a free case consultation today.
BAR ADMISSIONS
EDUCATION
B.A. Business Management - Clark University in Worcester, Massachusetts, 1985

B.S. Economics - Clark University in Worcester, Massachusetts, 1985

J.D. - The University of Cincinnati College of Law, 1989

The National Criminal Defense College and the Advanced Cross-Examination Program in Macon, Georgia, 1996
PROFESSIONAL ASSOCIATIONS & MEMBERSHIPS
National Association of Criminal Defense Lawyers - Lifetime Member

National Association of Criminal Defense Lawyers - Board of Directors, 2007-2013

National Association of Criminal Defense Lawyers' Problem Solving Court Task Force - Co-Chair

National Association of Criminal Defense Lawyers' Pre-Trial Justice Task Force - Co-Chair

CLE Seminar - Co-Chair, 2010-2014

Ohio Association of Criminal Defense Lawyers - Board of Directors

Ohio Association of Criminal Defense Lawyers' CLE and Strike Force Committees - Co-Chair

Greater Cincinnati Criminal Defense Lawyers Association - Former President

GCCDLA Jim Looker President's Award for Excellence in Criminal Representation, 2005

Adjunct Faculty Teaching Excellence Award from the University of Cincinnati College of Law, 2010